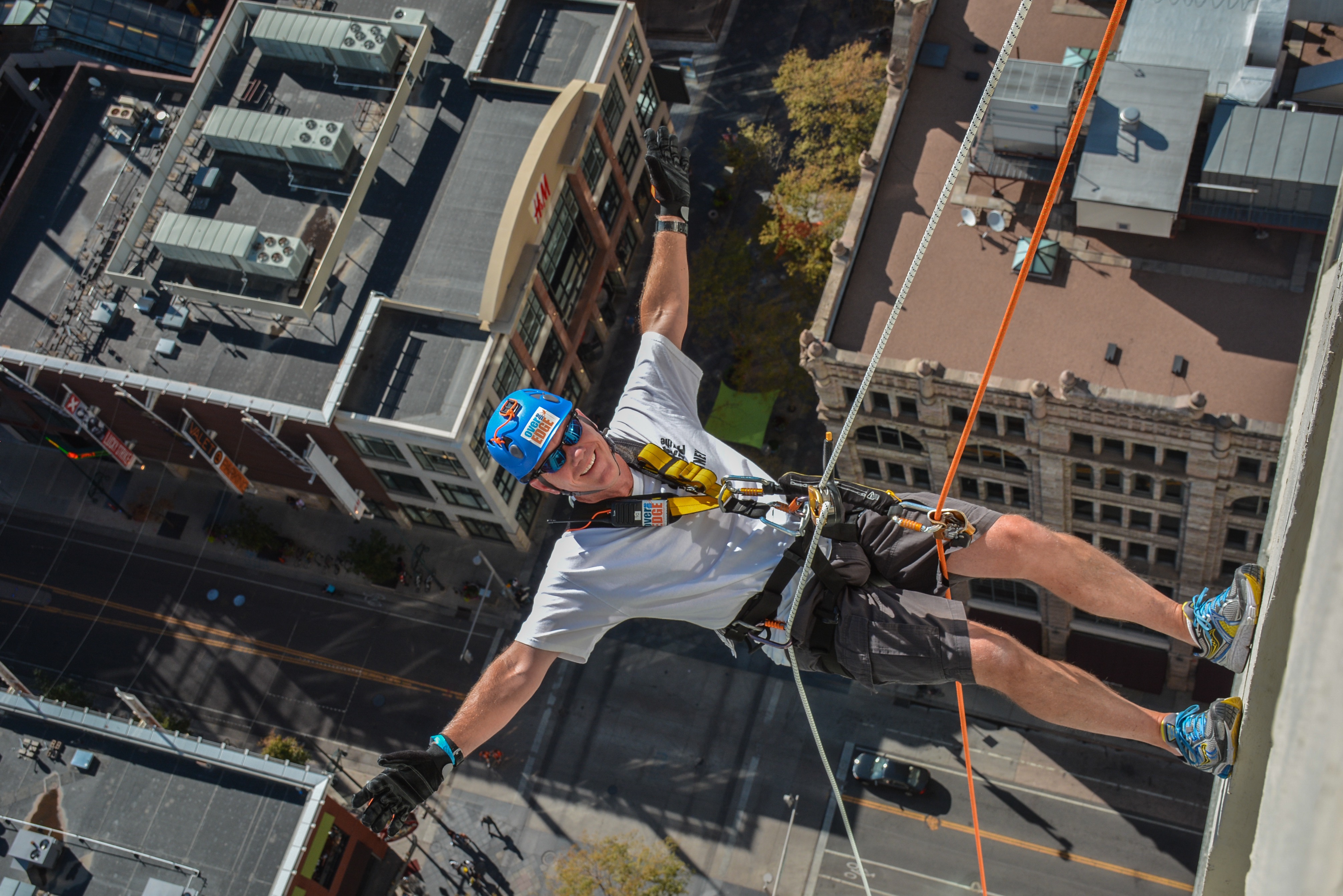 Dear Family and Friends,
As you are aware, Barb and I are dedicated to Cancer League of Colorado's mission of finding a means of controlling or curing cancer. Cancer League, a 100% volunteer non-profit with no paid staff and no offices, raises money to fund vital research that we hope will find the answers that will end the threat of this deadly disease in our lifetime.
Hard to believe, but this is the 11th year for Cancer League's unique and exciting OVER THE EDGE event, which will be held on September 5th, 6th, and 7th. This year, we will be tackling a new high-profile building in downtown Denver, the 38-story Hyatt Denver Convention Center. We will have three ropes going simultaneously again this year, with over 200 people expected to rappel over the three-day period.
IN THIS REGARD, I AM ASKING FOR YOUR SUPPORT IN ONE OF TWO WAYS:
1. JOIN ME ON THE ROPES and go "OVER THE EDGE" yourself. Do this for a friend, or for a co-worker, or for a family member who has been touched by cancer. Or do this for yourself! Whatever your motivation, I will guarantee you the experience of a lifetime, and you will be raising money for the very worthy cause of finding a cure for cancer. To participate, you will need to raise a minimum pledge amount of $1,500 for Cancer League of Colorado, which is not hard to do when your friends and contacts understand the cause and what you are committing to do in support of it. Hit the "Register" button above to sign up. If you want to sign up and have any trouble, please contact me and I will be happy to help you. Space is limited, so please sign up as soon as you can.
2. DONATE TO SUPPORT MY RAPPEL. If the thought of rappelling off a 38-story building doesn't appeal to you, I would appreciate your support to help me reach my personal goal of raising $20,000 for Cancer League. Simply click on https://www.denverovertheedge.com/gary-reece/. If you would prefer to donate by check, please make it out to Cancer League of Colorado, include "Gary Reece Over the Edge" in the notes section, and send it to Cancer League's address at P.O. Box 5373, Englewood, Colorado 80155-5373.
Please communicate this opportunity to everyone you know who has been touched by cancer in some way and might be interested in supporting the mission of Cancer League in one of the two ways outlined above.
Thank you for your support, and I look forward to seeing you soon. If possible, please come down to watch me rappel. I'll send you the exact day and time at a later date.