Donate to
Cancer League of Colorado
in honor of Wyoming Whiskey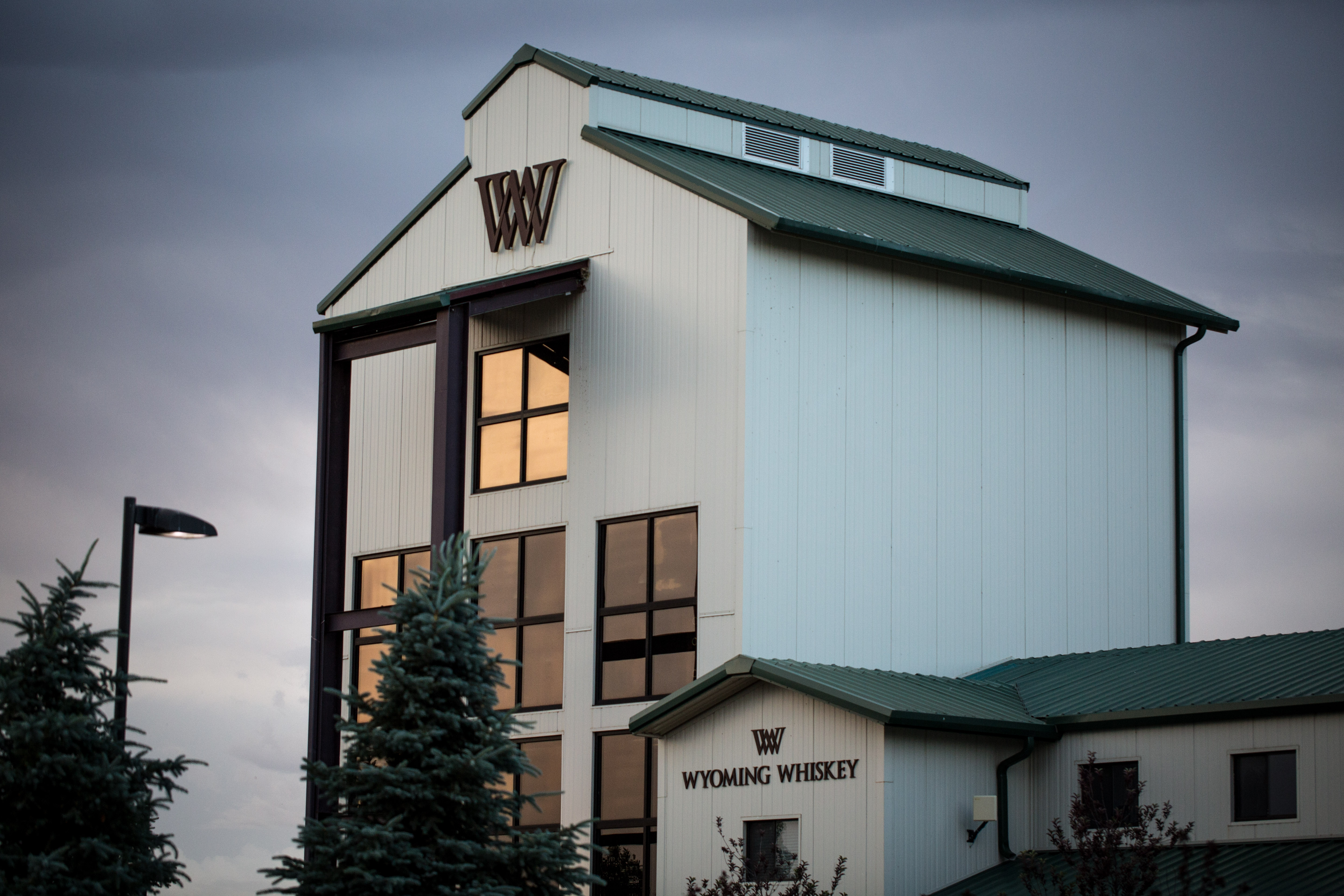 Based in Kirby, Wyoming, Wyoming Whiskey's mission has been to produce Wyoming's first premium whiskey, using only the finest regional ingredients sourced from the Big Horn Basin. Our whiskey is produced through a select process that promotes Wyoming's natural and human resources.
Team Wyoming Whiskey is excited to go "over the edge" to help the fight against cancer by raising money for research and patient services supplied by our neighbors in the south at the Cancer League of Colorado!
Team Members

Team Donors
Edrington DOUBLE MATCH
to Blair Woodall

$1,576.00

Edrington DOUBLE MATCH
to Mike Zitelli

$12,620.00

George Pagan III
to Mike Zitelli

$20.00




Friends supporting Friends. Thanks for getting uncomfortable to spreading charity& good heartedness

Anonymous Donor
to Mike Zitelli

$100.00




GOOD LUCK PAPISH!!!

Sherrie Serpico
to Mike Zitelli

$25.00

Paula Reyna
to Mike Zitelli

$40.00




Good Luck Mike!

Samantha Leotta
to Mike Zitelli

$75.00




Good luck Mike!

JESSICA TAMILIO
to Mike Zitelli

$50.00

Sarah Wilhelm
to Mike Zitelli

$50.00




Good luck!!

David Stock

$100.00

Rebecca Wright
to Mike Zitelli

$20.00

raquel raies
to Mike Zitelli

$25.00




Good luck :)

Jackie Feld
to Mike Zitelli

$25.00




This is Amazing!! What a great cause!

Lindsey Nauman

$25.00




You can do it!

Wyatt Molineaux
to Mike Zitelli

$500.00




Amazing Challenge Mike! You are going to be GREAT! Young's Market Company

Carin & Leo Marino
to Mike Zitelli

$50.00




GO MICHAEL!!! (But be careful!!!)

Scott lammert
to Mike Zitelli

$500.00




Mike, Best of Luck from RNDC

David Snyder
to Mike Zitelli

$100.00




Zitelli could leap this building in a single bound.

Christopher Spalding
to Mike Zitelli

$150.00

Bradford Mead Mead

$100.00

Rosemarie Smith
to Mike Zitelli

$100.00




Great cause Michael with love!

Anonymous Donor
to Mike Zitelli

$50.00

Brian O'Neill
to Mike Zitelli

$250.00

Karin Wilkins
to Mike Zitelli

$25.00




good luck!

Jane Graham
to Mike Zitelli

$50.00

Kimberly Barger
to Mike Zitelli

$50.00

Olivia Olbrei
to Mike Zitelli

$40.00




Good luck!

anthony dieppa
to Mike Zitelli

$25.00

Jill Quady
to Mike Zitelli

$25.00

Hugh Roach
to Mike Zitelli

$50.00




Good Luck!

JP Correa
to Mike Zitelli

$25.00




Don't look down!

Max Gettinger
to Mike Zitelli

$50.00




Good Luck!

Christopher McSweeney
to Mike Zitelli

$25.00

Alysa Mattuski
to Blair Woodall

$100.00

Kristal Cooper

$10.00




I love you. I miss you. You're amazing. You're Wonder Woman!

Stephanie Studer
to Blair Woodall

$36.00

Rick Weissinger

$10.00

Adam Bunk
to Mike Zitelli

$100.00




Good Luck Z! - Adam & Gab

Jada Portela
to Mike Zitelli

$100.00

Andrea Pelaez
to Mike Zitelli

$50.00




Good luck & don't look down! :)

Anonymous Donor
to Blair Woodall

$200.00

Valerie Marks
to Mike Zitelli

$50.00




GO ZITELLI!!!!

Carrie Paul
to Mike Zitelli

$50.00




Good Luck!

Mike Kastin
to Mike Zitelli

$100.00




Proud of you Mikey! Good luck!

Aristotelis Baroutsis
to Mike Zitelli

$50.00




Go Mike!

Aristotelis Baroutsis
to Mike Zitelli

$50.00




Go Mike!

Chris Groll

$250.00




Go WW Team!

JULIE & JIMMY CLASSEY
to Mike Zitelli

$50.00




GO GET EM

Donna Serpico
to Mike Zitelli

$100.00




Huzza

Martin Cooke
to Mike Zitelli

$100.00




Wish I was doing it with you and the team!

Dean Christa Nicolette Jack Porcaro
to Mike Zitelli

$100.00




Proud of you Michael but you're not Tom Cruise!

Suzanne Gruber
to Blair Woodall

$25.00

Anonymous Donor
to Blair Woodall

$30.00

Joe Cabassa
to Mike Zitelli

$50.00

Veronika Gunn
to Mike Zitelli

$50.00




Good luck Mike and Wyoming Team!

Eric Juergens
to Mike Zitelli

$100.00

Mark Zander
to Mike Zitelli

$50.00




Don't Fall

Dana HInkle
to Mike Zitelli

$25.00

Nadege Dethy
to Mike Zitelli

$50.00

Lisa Derman

$100.00

Jack Bauer
to Mike Zitelli

$25.00

Sebastian Czuszel
to Mike Zitelli

$25.00

Nicolas Villalon
to Mike Zitelli

$50.00

Ryan Malkin
to Mike Zitelli

$100.00

Alexis Calero
to Mike Zitelli

$45.00

Michael Schutzbank
to Mike Zitelli

$25.00

Gemma Robson
to Mike Zitelli

$50.00




GO MIKE!!! Amazing effort.

Ryan Umholtz
to Mike Zitelli

$25.00




Don't look down!

MICHAEL MISIORSKI
to Mike Zitelli

$500.00

Herb Kopf
to Mike Zitelli

$50.00

The Bromfeld Family
to Mike Zitelli

$118.00

Kyla Hampaul
to Mike Zitelli

$50.00

Rosalind Zhu
to Mike Zitelli

$25.00




Daredevil! Go Zitelli!

Melanie Fernandez
to Mike Zitelli

$25.00

Carol Michener
to Mike Zitelli

$25.00

Michael Haje
to Mike Zitelli

$100.00

John, Christie, Nick & Will Piascik
to Mike Zitelli

$50.00

Anonymous Donor
to Mike Zitelli

$69.00

Anne & Russ Munson
to Mike Zitelli

$50.00




Don't look down

Dylan, Ryan & Von
to Mike Zitelli

$50.00

Helene Aleci
to Mike Zitelli

$25.00




Good luck, Michael!

Brian & Stephanie Thomas
to Mike Zitelli

$100.00




Happy to support a great cause!

Jacqueline, Greg, and Abigail Smith
to Mike Zitelli

$50.00

David Franknecht
to Mike Zitelli

$75.00




Good luck! Great cause!

Nicholas Pellicani
to Mike Zitelli

$100.00

Nancy SanEmeterio
to Mike Zitelli

$25.00




Thanks Michael ????

Anonymous Donor
to Mike Zitelli

$25.00

Jake Levine
to Mike Zitelli

$50.00

Andrew Carnright
to Mike Zitelli

$100.00




Don't forget to tie the rope!

Anonymous Donor
to Mike Zitelli

$25.00

Mary Leyden
to Mike Zitelli

$10.00




Such an important cause

Anonymous Donor
to Mike Zitelli

$100.00

Tammy & John Dorozynski
to Mike Zitelli

$50.00

Mike Zitelli

$100.00

Blair Woodall

$100.00